Heating, ventilation and air conditioning (HVAC) systems typically account for over 40% of energy use in offices and form a significant proportion of energy use in other areas of a business. HVAC is a key area of focus for identifying energy saving measures.
Introduction

Heating, ventilation and air conditioning (HVAC) systems control the temperaturemidity and quality of air in buildings to provide a comfortable environment for people and equipment in our buildings.
As an employee, you are unlikely to be able to make the decision to replace your existing heating and cooling system with a more efficient one. However, there are plenty of ways in which you can modify your behaviour to reduce energy use from heating and cooling in your building.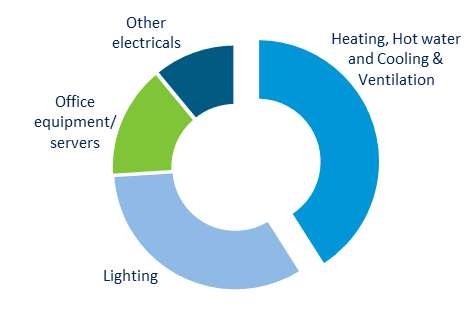 Recommendations
Find out who controls your HVAC systems: This allows you to report any issues or requests to the correct person, so that they are addressed as soon as possible. It will also help you to understand how the system works across different rooms.

Report any issues: You need to report issues, such as any signs of damp or visible gaps in the walls, floors, roofs, windows or doors of your building.

Reduce sun radiation: If you sit near a window, and the heat from the sun is making you uncomfortably warm, adjust the blinds away from your desk and direct the light towards ceilings and walls. Blinds or curtains should be closed at night to reduce early morning solar heat gains from the sun in the summer and heat loss in the winter.

Turn the heating down before opening a window: If you are too hot, first check whether the heating is on and whether it can be turned down before opening a window. If it is on, opening a window can cause the heating system to work even harder.

Use natural ventilation and cooling: Before turning the air conditioning on, first check whether opening windows on opposite sides of the room can achieve a comfortable temperature. If this does not achieve a comfortable temperature, close the windows and turn on the air conditioning. Air Conditioning should never be operating while the windows are open.

Dress appropriately: Do not expect to be able to work in the same outfit during different seasons. In offices, it is common to have a 3°C temperature difference between winter and summer.

Leave controls alone: Do not adjust the central heating or cooling controls, unless you have permission and the understanding to do so. If there is an issue, report it.

Avoid using portable heaters and coolers: Do not bring heaters or coolers into the office without permission. These devices are often a health and safety hazard and should never be left in unoccupied areas or plugged into an extension lead. If you are feeling to hot or too cold report it first.

Further information on these key recommendations can be found below.

Additional Information

Improving building fabric


Poorly maintained building fabric will lead to increased heating or cooling costs, as the building will be less able to retain the heated or cooled air. Gaps in your building fabric can also lead to draughts, which are not only a cause of discomfort and complaints from staff, but are also causing higher energy bills. A door with a 3mm gap will let in as much air as a hole in the wall the size of a brick. When a building is draught-free, its heating and cooling systems don't have to work so hard resulting in lower energy bills.
Don't expect that those responsible will be aware of the draughts you are experiencing, or any issues with the building fabric, so make sure that you report them.


Reducing excess heating


Before using cooling equipment, it's important to try and avoid excess heating, for example from sunlight, equipment, lighting and refrigeration. Sunlight is the easiest to control as you can adjust blinds to redirect the sunlight towards the ceiling or walls. If your window hasn't got a blind, or special heat reflective film or glass, let those responsible know. If you play a role in procurement, consider the energy efficiency of the products you are buying as the more efficient the product is, the less it will cost you in the long run.


Don't open windows whilst the heating is on


If you are too hot and the heating system is on, it may be that the thermostat is set too high. If you immediately open a window to cool yourself down, it will cause the heating system to work harder to maintain the temperature the thermostat is set to. This will use more energy and cost more money. Instead, let the person responsible know so that they can turn down the heating system. It may also be worth reminding this person of the recommended thermostat settings. In the UK, it is recommended that thermostat settings are in accordance with the Chartered Institute of Building Services Engineers (CIBSE) guidance:
Heavy activity: 11 - 14 °C
Light activity: 16 - 19 °C
Sedentary: 19 - 21 °C
Offices: 21 - 23 °C
Setting the thermostat just 1°C lower can reduce heating costs by about 8%. When cooling, setting the air conditioning level to 1°C higher saves 2-4%.


Natural cooling and ventilation


Before asking for the air con to be turned on, ask whether you can open windows on opposite sides of the building to allow natural ventilation to cool down the internal temperature. This free cooling of the building reduces energy consumption, leading to significant cost savings.


Why to dress appropriately


As you've read above, excessive heating and cooling significantly increases energy costs. Therefore, if you do not dress appropriately, energy consumption will need to be increased just to make you comfortable. Dressing appropriately will ensure there isn't any excessive energy consumption.


HVAC controls


HVAC systems can be automatically controlled. They can be set on a timer to control when they turn on and off, and they are also programmed to maintain a certain temperature. Contact the responsible personnel to ensure that time controls are only set for the required times.
If the thermostat is adjusted, for example by increasing the temperature at which the cooling system turns on, you probably won't be aware of how to adjust the heating system accordingly. This could result in simultaneous heating and cooling. A 'dead band' needs to be set of approx. 4 - 5°C which ensures that neither the heating and cooling is operating between given temperatures. The diagram below shows a dead band of 5°C from 19°C - 24°C
If you notice that the HVAC systems are coming on at the wrong times, or are set to the incorrect temperatures, notify the person that is responsible.
Diagram of 'dead band' control indicating recommended temperatures

Portable heaters


If you are always cold, but the heating system is set up correctly, it is a sign that there is a problem with the system or building fabric. Ask the person responsible for heating and cooling if the air conditioning flow rates can be reduced - these are often set too high, which causes a draught for staff sitting nearby.
If it is not possible to fix, it is worth asking whether there is any local control of the heating system in your part of the office (for example thermostatic radiator valves).
The problem with portable heaters is that they can affect the general temperature control of the space you are trying to heat or cool. These devices are also often a health and safety hazard and should never be left in unoccupied areas or plugged into an extension lead.
Be mindful that portable heaters in the workplace will be subject to PAT testing.